MU Legend - Free Diablo III With A Hint Of MMO
Webzen decided to attack the nostalgic players and bring the MU Universe back to life in a new, free version. Can this MMOARPG be able to protect itself against the competition?
On November 7, 2017, Webzen opened the MU Legend gateway for everyone. As a beta tester, anyone can check out this MMOARPG. But do not be fooled by the fact that the game is available in open beacons, because it's a standard situation on the market - the official premiere will take place by the way, and now we can enjoy a full version of the title.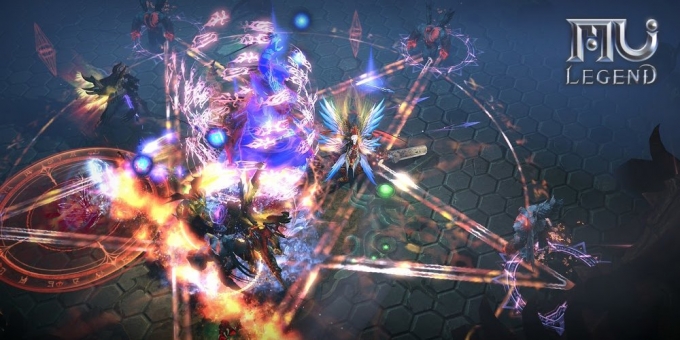 Older generations probably remember a title like MU Online. As it is easy to guess, MU Legend is a continuation of the prototype, and precisely its prequel. Shows events occurring before the history of the original. Quietly, the plot does not have to attach too much weight, because it is extremely simple and serves only as a pretext for playing. There was a god of demons who was sealed in man. For a long time mankind lived peacefully until our chief evil took control of his human prison. Then the world flooded the horde of monsters, and we, as the last bastion of good, we have to face with them. Unfortunately, the dark forces are too powerful, so at the last moment we are sent to the past. There must be an event that has led to the situation we know.
The above step is really a tutorial. We start with a 100 level character. We have access to all of our hero's abilities and we know the basic mechanics of the game. After completing the admission we go back in time and start playing at level one. Use the beginnings to learn the character classes. For now, Blader, Dark Lord, War Mage and Whisperer are available. Over time, you will also see the Emphasizer (phantom / phantom), and later black phantom. Each of these professions has two types of weapons that offer different sets of skills.
As we talk about it, the maximum level of our character is 65. It gets in fairly quickly, calmly enough for 5 days of loose play - let's say 3 hours a day. All you have to do is complete the story and use the dungeons. You do not have to grind mobs, because it is completely unprofitable - more time you spend in instances.
As for character development, it was divided into two stages. Levels unlock access to further skills. Around level 30 you will have to decide which of the spells you will give up, since you will already have filled the entire bar. The second way to develop a hero is through the soul level that we gain from the beginning. Simply compare it to Diablo III receipts. Soul level is split up and slower than character level. We pass on to passive traits such as physical injury or evasion. The option is not lacking and all things will take a long time. Once we reach level 65, we will be able to further develop the soul level, which is worth paying attention to. After investing the right number of points in a given feature we get a bonus deal.
All in all, the MU Legend concept is based on the development of the hero. In addition to the mentioned soul level we have the ability to upgrade our skills to master levels. This is done in a simple way - just use them. Thanks to that, after some time we will reach the first level of the championship, which allows us to strengthen the power of the spell or its chance for critical hit or cost - the decision belongs to us. Three times as long as we spend the right amount of time.
And there are artifacts with their own bonuses for our hero. In addition, we have also familiar with the winged prototype, which influences the character statistics. You can add a pet accompanying you, which also affects your strength. All this can be further strengthened and developed. So basically this is the element in the MU Legend so called. "Endgame". We have a lot of things (not to mention the inventory, of course) that we can expand. For this reason, we devote all our time to traversing various dungeons. In some we find better weapons, others are used to collect reinforcements for wings, and others are a paradise for animal breeders.
Fighting is not a challenge but it is satisfying. And calmly, you do not have to focus on developing characters in every way. This is a great way for players who want to go top-level or for people interested in PvP. The first ones are tempting, because they offer up to 400% of the bonus for the experience points gained and the chance of falling out something attractive. The only problem is that the degree of difficulty of such a dungeon turns out to be enormous. Often it is better to go for an easier instance, but go through it without hindrance several times.
As for the level of difficulty of the MU Legend itself - well ... unless we take on the challenges of increased difficulty, we are waiting for a walk in the forest. The opponents basically do not think, they gather around us and attack what they can. They do not deal too much damage, so even at the beginning of the game, without good equipment, you can face up to 15 monsters simultaneously. Their "difficulty" is reduced to extremely good condition. Who would have thought the forest spiders would be able to take on a dozen or so attacks without stumbling? I felt that in this way the creators wanted to make the whole game not too easy or rather fast. We limit the number of HP points to enemies, so there is no way of expressing a particular passage of a map.
The case looks "quite different" when fighting bosses and larger opponents in instances. They have special attacks and a lot of stamina. The moment of inattention can make us smear the flowers from the bottom. As far as - of course - we do not see much red information about the upcoming attack. Unfortunately, a few moments is enough to get to know the opponent's pattern. Then it all comes down to doing the dodging and successively rubbing against the enemy, which after some time is finally killed. After all, you can choose one of four prizes for completing the challenge. If you are interested in this part, evaluating and learning how they went in this way.
Once you want to learn more news about MU Legend or you want to buy MU Legend Zen, you can come to www.u4gm.com. We promise you'll get best service.